Since the silent era, moviemakers have recognized the vital (indeed, even viral) connection of music to film. Although the actors themselves were not heard on the screen, live orchestras provided the necessary ambience for receptive theater audiences.

Early composers and conductors like Hans Landsberger, Sam Perry and Guiseppe Becce scored incidental music cues for such nascent horror films as The Golem (1920), Phantom of the Opera (1925), and The Cabinet of Dr. Caligari (1920).

In the 1930s and 1940s, famed composer Franz Waxman scored for The Bride of Frankenstein (1935), while workhorse Frank Skinner put together memorable cues for The Wolf Man (1941) and The Black Cat (1941). James Bernard created masterful soundtracks for such 1950s Hammer horror flicks as The Curse of Frankenstein (1957) and The Horror of Dracula (1958).

By the 1960s - and 1970s in particular - filmmakers had not only realized the longstanding importance of music, but they also began to more fully explore their understanding of its relationship to the movies. The results were multilayered compositions which not only accompanied the film itself, but stood equally well on their own.

Pino Donaggio's work in 1979's Tourist Trap, not to mention his various collaborations with Brian DePalma, are as moving and lovely as any score for a drama or love story. Director John Carpenter claims Halloween (1978) simply wasn't Halloween until he inserted the now classic punctuating cues that helped prompt viewers out of their seats.

Horror scores have run the gamut, sonically speaking. Through the decades, many of them have proven surprisingly lush and beautiful. The Italian giallo subgenre has been richly served by Ennio Morricone's finely textured, Martini elegance. The trance-like sounds of Fabio Frizzi have enlivened more than a handful of Lucio Fulci pictures.

Among the impressive names who've scored excellent horror music, you can count future Academy Award winners James Horner and Howard Shore, as well as Disco producer Giorgio Moroder.

Stephen Ryan, contributing writer for The Terror Trap, presents below an alphabetical, subjective list of 20 selected scores to contemplate and enjoy. Along with assorted cues from the soundtracks, an extensive photo gallery is included.

Additionally, acclaimed composer Paul Zaza (A Christmas Story, Prom Night, among many others) has exclusively provided original music from the unreleased soundtrack for Curtains (1983).

Contemporary classical composer John Corigliano has maintained a career as abundant as any such musical icon of centuries past: distinguished music professor, winner of numerous coveted awards, mentor to many of the industry's most celebrated musicians, et al.

In addition, his full and rich repertoire has thrice graced the film industry with mentionable accomplishments, including his staggeringly beautiful Oscar-winning score for The Red Violin.

Curiously, Corigliano also landed an Academy Award nomination for his very first film score ever: namely, for Ken Russell's 1980 sci-fi/horror mindblower, Altered States. (Horror movie? First film score? Oscar nomination? Who would have thought...?)




Score: ALTERED STATES (1980). Music by John Corigliano. Directed by Ken Russell. With William Hurt, Blair Brown, Charles Haid, Bob Balaban, Thaao Penghlis, Miguel Godreau, Dori Brenner, Drew Barrymore, Peter Brandon, Charles White-Eagle.

Spending much time in development, changing hands between multiple directors and studios, and disowned by writer Paddy Chayefsky, Altered States nonetheless proved a moderate success and has been consistently referenced by pop culture in the years since.

The story of a Harvard professor experimenting with sensory deprivation via hallucinogenic drugs (much to the chagrin of his colleagues and estranged wife), and experiencing horrendous results, gave director Russell numerous opportunities to indulge in his signature psychedelic flourishes. Moreover, it provided a platform for Corigliano to create a busy, breathtaking score.

Shrill, insidiously quavering strings perfectly punctuate the main character's many frightening transformation moments. If ever there was a musical equivalent of "skin crawl," Corigliano has mastered it here without question. Meanwhile, the composer injects multiple styles, instruments and rhythms into the film's turbulent, forceful hallucination sequences, giving them an ecstatic intensity as assaultive as the picture itself. A truly marvelous score not to be missed.

Several tentative projects on Brian DePalma's roster, including a Jim Morrison biopic, were thwarted by the middling box office of

Scarface

. Having also been developing a thriller for director Ken Wiederhorn (

Eyes of a Stranger

), Columbia Pictures reluctantly agreed to the project...but only if DePalma himself would direct.

However, they later became outraged at rumors that he had been auditioning porn stars for an undisclosed part. The controversial role in question was offered to Jamie Lee Curtis - and real-life adult film star Annette Haven - before the appropriately ditzy Melanie Griffith was cast to perfection in Body Double.

Oddly co-produced by Paddy Chayefsky collaborator Howard Gottfried for $10 million, and DePalma's first film to be set and shot in L.A., the responses were expectedly divided. Roger Ebert loved it, Pauline Kael was very disappointed, feminists were appalled, and moviegoers were split between DePalma's film and Ken Russell's similarly debaucherous Crimes of Passion.

The story of a claustrophobic actor who, while housesitting for a friend, spies on a beautiful woman, witnesses a grisly murder, and follows a trail of clues which lead him to the porn industry...Body Double is one of DePalma's most retrospectively studied works to date.

The elegant, romantic music of Italian composer Pino Donaggio was now a firm fixture in DePalma's repertoire and the horror genre at large. Influenced by then-en vogue New Wave and Euro/technopop movements, Donaggio's Body Double score infuses his signature lyrical melodies and clarion strings with newly-added pulsating, low-octave synthesizer cues. Sensual subvocals and a general tone of perverse obsession notwithstanding, Donaggio's work here is warm, wet and rapturous.

David Cronenberg's 1979 feature,

The Brood

, represented a visible step forward in quality and production values for the Canadian auteur. Inspired by his own bitter divorce and child custody battles, Cronenberg openly affirms it to be his only work without a sense of humor.

Provocative, intelligent and frightening, the film is especially resonant with audiences who identify with the familial deconstruction attributed to the "Me Generation."

In summation, the story concerns a woman under therapeutic isolation whose repressed anger takes shape in the form of mutant offspring who attack the subjects of her resentment; her resplendent, controversial psychiatrist; her young daughter who is already showing signs of childhood trauma and parental abuse; and her alienated husband's efforts to protect their child from all of the above while maintaining his own sanity.

Oscar-winning Canadian composer Howard Shore, known to many for his work with Martin Scorsese, Peter Jackson and David Fincher, had primarily worked in television during the 1970s via his long-term association with Saturday Night Live producer Lorne Michaels.

The Brood, however, would spark a definitive collaboration with Cronenberg which has since lasted over three decades. Ironically, the brassy, bombastic orchestrations and alternately moody synthesizer cues which usually define Shore's compositions are absent in this early work.

The film's raw themes and emotional content are well-matched by a simple collection of strings and virtually no percussion, brass, woodwinds or synthesizer. The result is a suitably dry, scraping, arguably discordant sound throughout. Highly effective and a great one for "tweaking out."

From "Giorgio" in the 1960s, to the co-creation of Casablanca Records and Donna Summer's repertoire in the 1970s, to numerous film scores thereafter...multi-threat iconoclast, Giorgio Moroder, is deemed a pioneer of synthesizer compositions.

Credited with enormous influence on the dance/technopop and New Wave subgenres, the magnanimous artist would earn an Oscar for his throbbing electronic score to Alan Parker's Midnight Express, and eventual status as a veritable "hitmeister" for numerous Don Simpson-Jerry Bruckheimer "soundtrack films."

Following the success of American Gigolo (on which Moroder had also worked), director Paul Schrader was soon approached with a remake of the 1942 Jacques Tourneur/Val Lewton classic, Cat People, amidst a then-ongoing campaign at Universal to revamp several of their watermark horror films.

Re-teaming with cinematographer John Bailey and eccentric Bernardo Bertolucci production designer Ferdinando Scarfiotti, Schrader abandoned the original's implicitness, embarking on an auteur-theory-based erotic art-horror film.

Involving a virginal young woman's first sexual awakening, her sinister long-lost brother, and the realization that they belong to a mystical race who transform into panthers upon arousal, Cat People's decadence evolved on and off-screen in a reportedly confused, inharmonious production. As for Moroder, however, Schrader thankfully declares him a responsible and consummate professional.

Moroder's electronic ambience exploits the stereophonic left-right separation to its maximum potential, creating a vibrant underscore of sexual tension and danger. Primeval, "jungly" drum machine beats capably callback the story's arcane themes. David Bowie's subvocal motifs and lyrics in the film's popular theme song, "Putting Out Fire," earned he and Moroder a shared Golden Globe nomination.

"Somebody's putting people into comas!"

The always-reliable Jerry Goldsmith scored over sixty films of the horror/sci-fi persuasion throughout his extensive career, five of which were released in 1978 alone.

Fresh off of his Oscar win for The Omen, Goldsmith soon commenced with one of his most accessible, overtly suspenseful scores yet. Michael Crichton's $4.5 million adaptation of Robin Cook's best-selling novel, Coma, proved a critical and box office success.

Coma is an enthralling retrospective time capsule of 1970s feminist mores, women-in-danger themes, and right-wing paranoia...not to mention having discouraged filmgoers from anesthesia and inpatient surgery, just as Jaws had done for swimming.

A star-studded, exciting thriller concerning a liberated female doctor who persistently investigates a series of inexplicable coma cases at her hospital of residency, and is soon running for her life...the film maintains a tone of quiet, understated suspicion in its first hour with virtually no score at all.

However, come the film's second half, "quiet" is no longer on the menu. In a series of taut, skillful suspense and chase sequences, the main character's plight is given new impetus for terror via Goldsmith's relentlessly chilling score.

Avoiding his previously brassy, deeper tones, the composer clearly goes for the jugular here, with a large strings section, four pianos, and no brass whatsoever. Loud, unrelenting, and utterly dazzling...Goldsmith's score reeks of "thriller." Scratchy, penetrating strings, disruptive staccato rhythms, and thunderous piano banging abound throughout.

Is it too much? Absolutely not! Goldsmith's work here is wonderfully hair-raising, aggressive, and everything else a good thriller score should be.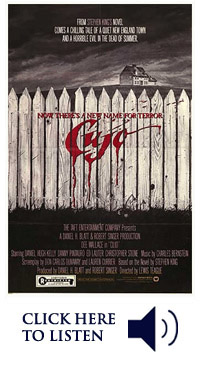 Julliard graduate, author, and versatile composer, Charles Bernstein (distant relative of musical greats Leonard and Elmer), is often quoted for his standout synthesizer work in Wes Craven's

A Nightmare on Elm Street

, and the notorious "thump-thump with threatening guitar" attack cues in

The Entity

. However, let us not forget one of his more traditional and most memorable scores.

1983's Cujo proved one of the more widely accepted, critically acclaimed Stephen King adaptations. Produced by Taft International (1981's The Boogens) for $5 million, King's directorial preference for Lewis Teague was made manifest when Peter Medak (1980's The Changeling) was dismissed after one day's shooting.

Concerning a housewife whose marriage has deteriorated into adultery, her 5-year-old son battling childhood boogeyman fears, both trapped on an abandoned farm in their broken down Pinto by a rabid dog, Cujo's narrative success is crystallized by its solid acting and dramatic nuance.

With substantial quality on both sides of the camera, King decrees Cujo to be his favorite of all adaptations of his work, only lamenting that the powerful performance of its star, Dee Wallace, was not nominated for an Oscar.

Notwithstanding plenty of relentlessly percussive horror cues and shrieky strings in the film's many "doggy terror" moments, Bernstein's lovely, heartfelt piano and strings-based main theme (and subsequent aural motifs) reminds us the film's crux is truly the mother's love for her son in the wake of familial turmoil. Simply beautiful...and certainly equal to or greater than any classic American dramatic film melody.

When pondering memorable Canadian horror scores, nobody comes to mind like Paul Zaza. A veritable brick in the wall of said subgenre, the prolific composer cut his teeth as a classically trained pianist before collaborating with such recognizable names as director Bob Clark and fellow musician Carl Zittrer.

From My Bloody Valentine (1981), to Porky's (1982), as well as A Christmas Story (1983), Zaza's film music has ranged from the horrific, to the comic, to the sentimental.

Given the abundance of work flushed from the Canadian Film Fund during its tax shelter era, Zaza's distinctively spry, classy sound would soon be converse with some of the most treasured entries of the early 1980s horror renaissance. Yet none seems to generate as much exuberant discussion as his amorous score for the 1983 cult classic Curtains.

The story of a seasoned actress who commits herself to an asylum in preparation for a demanding role - only to learn that her unscrupulous director is now privately auditioning five other women at his secluded winter estate - Curtains is often cited for its protracted and chaotic production.

Piecemealed from multiple shoots over three years due to scattered funding - with producer Peter Simpson eventually taking over for original director Richard Ciupka - Zaza confirms that the score's evolution mirrored the sporadic nature of the film's production.

As new scenes were shot and old footage edited, Zaza was asked intermittently to add new cues and replace existing ones, ultimately resorting to mixing portions of all of the above while also importing cues and effects from his previous score for Prom Night.

However irregular the process, the results as heard in the finished product are spectacular. The film's largely female cast (and emphasis on attractive actresses in competition) is appropriately foiled by Zaza's decidedly feminine score.

With plush, sympathetic piano melodies enlivening its more intimate sequences, other moments of string-based auditory tension are given an effectively dainty flourish with subsequent harp strokes.

While graceful in their inception, Zaza's compositions also know when to get right to the point with alternately pensive and piercing "uh-oh" strings riffing. Lower-octave woodwinds provide a supplemental accent of masculine intrigue, befitting the film's "chamber room" setting and the pomposity of its male protagonist.

Light sprinkling with "crotales" - tunable percussion discs similar to bells or cymbals - is aptly suggestive of the film's snowy setting with a "tingly," chime-like resonance throughout.

The occasional necessary keyboard cue was made possible by the ARP 2600, a then in-demand, multifaceted modular synthesizer. (Coincidentally, the same model used to create the voice of R2-D2.)

Despite an impressive girth of traditional accompaniment on display, Zaza ups the ante by augmenting the human voice as though it were its own solitary instrument. By processing a recorded female voice through a harmonizer - a musical effects device separate from a synthesizer - the composer successfully evokes a choir-like motif of agonized wailing or moaning, likening the tone of the pouting doll which serves as the killer's calling card. (Hence, a core component of that distinctive "Zaza sound.")

As for non-Zaza contributions...the mid-tempo pop confection "You Saved My Soul," performed by former Guess Who front-man Burton Cummings, is a nice precursor to the film's most notorious sequence.

An altogether excellent score from one of the genre's most gifted composers.

After touring a modern shopping mall in the mid 1970s, George A. Romero noted how contently one could survive if holed up in such a well-equipped environment. With that in mind, the sequel to his classic

Night of the Living Dead

began to take form.

False starts were given certainty when Dario Argento offered assistance to Romero and Laurel Entertainment producer Richard Rubinstein. A three-week stay in Rome as Argento's guest generated Romero's screenplay, and the $650,000 project was now officially in development.

With more trivial anecdotes, fans and variable releases than can be counted, Dawn of the Dead proved one of the most successful indie horror films of all time.

Dense with social commentary, Romero's compulsory story of two SWAT team members, a TV executive and her traffic reporter boyfriend - barricading themselves in a barren mall amidst a worldwide zombification outbreak - received almost unanimously positive reviews from even the harshest critics.

Though much of its fanfare is understandably attributed to Tom Savini's gore effects, Romero's unmitigated skill as an editor is doubtless what makes the film's domestic cut such a lean, mean, compelling viewing experience. Argento was in charge of European edits and distribution, and his most tangible contribution lies in having brought Goblin onboard to compose and perform much of the film's soundtrack.

Given Romero's historical use of stock library cues in other films, Goblin's diabolical presence lifts Dawn into new territory with numerous uncustomary rock tracks. Its thuddish main theme - with simple drum machines, electric bass, and synthetic ambience resembling a heartbeat - continues to leave viewers in shivers as heard in the early tenement basement shootout sequence.

Metallic synth-pulses laid over the uniform arrival at the abandoned shopping mall make this passage (almost Kubrickian in its cold totality) as tense and taut as any action thriller. Jazzier, more uplifting electric rock tracks allow for the perfect shift in tone as the characters' intentions become more specific and team-oriented.

Occasional warping of each track with electronically distorted human voices breaks up their repetition, without sabotaging their initial effectiveness and aural consistency.

Easily one of Goblin's best, and a fully satisfying listen on its own.

Prior to becoming the legendary, Oscar-winning composer we know him to be today...James Horner, like many of his contemporaries, spent much of his early career within the horror and sci-fi genres. Beginning with Roger Corman projects in the late 1970s, and then catching the ears of producers Peter Guber and Jon Peters, Horner was now assigned to Wes Craven's first 35-millimeter theatrical feature: the underrated 1981 rural gothic thriller,

Deadly Blessing

.

While grieving the unsolved murder of her husband, a beautiful farm widow is visited by two friends, and then harassed by her religious zealot in-laws (the herein fictitious "Hittites") who insist she is "the Incubus." Meanwhile, related stalkings, murders and seemingly supernatural events escalate. Slasher, demon - or both?

Though often associated with the appearance of a then-unknown Sharon Stone, the $2.5 million motion picture (co-produced by Guber, Peters, and Craven's Summer of Fear collaborator Max Keller) was Craven's most ambitious project yet. Peppered with recognizable veteran and young actors alike, and numerous crackerjack set-ups (that pre-date Craven's own Elm Street films), Deadly Blessing nevertheless features arguably Horner's finest early work.

Prevailing motifs such as liturgical chanting often leave horror buffs comparing it to such works as Carl Orff's Carmina Burana and Jerry Goldsmith's Oscar-winning score to The Omen. Intended similarities or no, this early horror effort from Horner is buoyed by a lovely woodwinds-based main theme, vigorous strings, and a level of class and artistry rarely seen from such a young composer, let alone in the terror genre.

Italian horror filmmakers have historically been fantastic givers and receivers in the two-way flow of creative ideas. Gracing the genre with some of the most imaginative, original concepts ever committed to celluloid, yet never hesitating to borrow from trends in American and other international film markets, Italian horror can typically be viewed as a cross-section of what the people seem to love! Lamberto Bava's 1985 undead/demonic possession hybrid

Demons

is no exception.

Produced by Dario Argento and set in a Berlin arthouse cinema, Demons is the story of an infectious demonic outbreak claiming an audience of filmgoers in the exact manner depicted in the movie featured on-screen (and somehow overtaking the whole world about an hour after its manifestation therein).

It's a veritable pastiche of many exhilarating wrinkles of its time: stylish Italian fashions, slick party-gel photography, over-the-top violence, colorfully stereotypical characters, bladder-induced "transformation" make-up effects and animatronics, deliciously amusing dubbing and illogic, male inadequacy-cum-hero fantasies, apocalyptic collective-consciousness fears...and, lo and behold, the arrival of the "soundtrack movie." (Footloose or Flashdance, anyone?)

Replete with an audible roster consisting of such recognizable performers as Billy Idol, Go West, Mötley Crüe, Rick Springfield and others, Demons also sports a gripping, genuinely compelling electronic score by Goblin keyboardist, Claudio Simonetti.

From its memorable, sample-heavy synthetic rock opening theme, to its plucky, bass-chord action cues, to its evocative, high-pitched horror ambience, Simonetti delivers a fine, very listenable score. Love the film or hate it, Demons represents some of the lionized composer's strongest non-Goblin work.