Perhaps none other than Steven Spielberg elevated the TV movie to another level in 1969 when he was hired for a segment of

Night Gallery

, a TV anthology pilot produced by Rod

Twilight Zone

Serling.

He directed the legendary Joan Crawford in a story about a rich and self-absorbed blind woman who pays a desperate man (played by Tom Bosley) for his eyes.

The twist? She will only have sight for twenty-four hours and gets her temporary vision during the New York City blackout of 1965. The twenty-one year old Spielberg directed with an unusual flair (especially for his age) that would serve him well in later years.

The pilot was picked up for a series that ran from 1970-1973. Ninety-one stories were filmed and they aired first in one-hour segments and then down to a half-hour in its final season. Spielberg returned to direct Make Me Laugh, concerning a comedian willing to pay any price to make people enjoy his humor...a wish that is granted by a genie.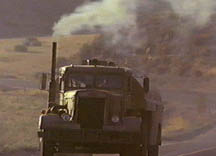 After working on a couple of series, he made another thriller, the classic Duel (1971). The teleplay was written by Richard Matheson from his short story that appeared in Playboy. Dennis Weaver portrayed a traveling salesman menaced on a lonely highway by a faceless driver in a tanker truck.
Elements of this very suspenseful film can be found in countless pictures such as Race With the Devil, The Car, Night Terror, Road Games, The Hitcher and Breakdown. Spielberg accomplished an amazing feat...he made a truck as scary as any movie monster that had come before.
It can almost be seen as a dress rehearsal for JAWS four years later, which was simply another variation of the story.
Duel received a theatrical release outside of the United States, with added footage. To this day, it plays at various festivals throughout America as well.
In 1972, Steven Spielberg helmed his third and final genre picture for telelvision with Something Evil. The film starred Darren McGavin and Sandy Dennis as parents with two children who move into a home in rural Pennsylvania and discover the house is haunted by a demon. Somewhat more low-key than his previous TV efforts, Spielberg again delivered the goods with confidence and panache.