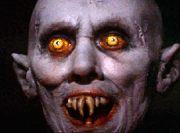 In 1979, George A. Romero was approached to direct a theatrical version of Stephen King's novel

Salem's Lot

. However, producers soon realized there were several vampire films going into production, including John Badham's

Dracula

, and Werner Herzog's

Nosferatu, the Vampire

.

They decided to make a TV miniseries instead. Romero bowed out, fearing the limitations of television would prevent him from making the film he wanted to.

Tobe Hooper, who had made the classic Texas Chainsaw Massacre was brought on to direct. The final product aired over two nights in November of 1979 and was a ratings smash.

David Soul played Ben Mears, a writer who grew up in the small town of Salem's Lot...and who returns after he finds success as an author. He ends up fighting a vampire (played by Reggie Nalder), who has settled into the quaint little community and is slowly turning the locals into his denizens. James Mason was great in one of his better latter day roles, as a local antique dealer who is in on the plot.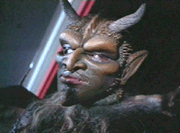 The evil Marsten House that overlooks the town is almost a character itself. Of course, the image of the vampire knocking on the young boy's window gave more than a few viewers nightmares! Hooper also made good use of the setting...the movie was shot in and around Ferndale and Eureka, in California.
There were some other memorable TV monsters in the '70s. One of the creepiest was 1972's Gargoyles, a CBS Tuesday Night Movie. Cornel Wilde played Mercer Boley, an anthropologist researching a book on demonology.
Jennifer Salt (who would star in Sisters the next year) was his daughter. Together, the two stumble upon the skeleton of an ancient gargoyle and the descendants of the creature come after them.
The film made the most of its desert locale and the make-up effects for the creatures were masterful. In fact, those effects won an Emmy for Stan Winston. He would later win two Academy Awards for helping create the visual effects for Terminator 2: Judgment Day, and Jurassic Park.
We still hear people talk about Don't Be Afraid of the Dark from 1973. Kim Darby and Jim Hutton portrayed Sally and Alex Farnham, a couple who move into a creepy old house.
Soon, the wife starts hearing whispered voices calling her name. Those voices are coming from a fireplace that's been bricked up. Although she has been warned to leave it alone, her curiosity gets the best of her.
Sally decides to remove the bricks...and unwittingly releases a group of tiny demons who are determined to take her with them. The ending is quite unexpected - as they manage to do just that. The visual effects are very effective and the downbeat ending makes for a more honest approach than usual.
If you've ever been frightened of the lights being out, mutants, whispering...or huge and dark houses, you may not want to watch this one alone! The popularity of Don't Be Afraid of the Dark has never diminished.