(1982)

1982's

Friday the 13th Part 3

came at a time when the movie industry was attempting to bring back the 3D format that had been so popular in the 1950s.

Ultimately the comeback failed, but a handful of films were made with the process (including Parasite in 1982 and JAWS 3 in 1983). Rather surprisingly, the second sequel to Friday the 13th remains one of the better examples of the 3D mini-revival.

The third installment in the franchise was originally to have been set in a mental institution starring Amy Steel once again. But Steel (considered by many to be among the best of the F13 heroines) refused to reprise her role. It was decided instead to keep Part 3 in a nature setting and at the same time, introduce a whole new batch of characters.

Says director Steve Miner of the storyline: "I pursued...taking the character of Ginny [from Part 2]...suppose she was in a mental institution, trying to recover, and we explored a psychological approach in Part 3? [But] it was decided by just about everyone involved that we should stay within the format of the first two films."

And as all die-hard F13 fans know, this was the picture that introduced the iconic hockey mask to the series.

Flashback. Ginny (Amy Steel) is one of the only survivors of Jason Voorhees' massacre. While trying to elude him, she comes across the sweater and decapitated head of his mother.

She puts the sweater on and as Jason approaches, Ginny speaks in the soothing voice of Mrs. Voorhees. The trick works for a moment...but Jason catches on when he sees the head behind the girl.

He cuts Ginny badly on her leg with a pickax but her boyfriend Paul (John Furey) arrives just in time. As Paul and Jason struggle, Ginny returns the favor by striking Jason with a machete.
Jason falls to the ground and after Paul and Ginny get a look at the young man's grotesque face, the couple exit the cabin...unaware that the killer they have left behind is far from dead.
Edna and Harold Hatcher (Cheri Maugans and Steve Susskind), who own a grocery store attached to their home, discover this fact shortly after Edna hears the news on television about the grisly murders.
Both are efficiently dispatched by Jason (Richard Brooker)...Harold with a meat cleaver to the chest and Edna with a sharp object through the back of her neck. Such precision, that Jason!
Shortly after, Chris Higgins (Dana Kimmell) is set to drive a group of friends out to her family country farm for the weekend. The property is not far from where the carnage occured.
She's joined by Andy (Jeffrey Rogers) and his pregnant girlfriend Debbie (Tracie Savage). Also along for the trip are nerdy practical jokester Shelly (Larry Zerner) and two hippie-type stoners, Chuck (David Katims) and Chili (Rachel Howard).
On their way, they pick up a "date" for Shelly...a pretty girl named Vera (Catherine Parks). Although her mother Mrs. Sanchez (Perla Walter) is against her going, Vera ignores her mom and hops in Chris's van.
While smoking pot, the group mistakenly believes the police are tailing them and they quickly digest the evidence. However, the cops are simply heading out to the crime scene at the Hatcher home.
The van makes an abrupt stop because a homeless man (played by David Wiley) is sleeping in the middle of the road. But their curiosity turns to disgust when they see the guy holding an eyeball. "Look upon this omen...and go back from whence ye came!" he warns them.
The friends arrive at Higgins Haven. Chris goes directly into the house and meets up with her beau Rick (Paul Kratka). Chris is a bit uptight about being back there...because of an incident two years ago.
She gets annoyed (as does everyone else) when Shelly pulls one of his dumb pranks...falling out of a closet with a fake ax impaled in his head. "It's just his way of getting attention," Deb tells Chris. Chris says she is on edge because she's been "hearing and seeing things" from the moment they arrived.
Vera drives into town in Rick's car with Shelly but they soon encounter trouble at a convenience store. They find themselves harassed by three bikers named Ali (Nick Savage), Fox (Gloria Charles) and Loco (Kevin O'Brien).
The situation doesn't get any better when Shelly rams Rick's car into the bikers' parked cycles and one of them retaliates by smashing the windows of the Volkswagon Bug.
Worse yet, the gang follows Vera and Shelly back to the house...where they get their kicks by draining all the gasoline from Chris's van. Their fun ends when they run into Jason, who slaughters Fox and Loco with a pitchfork before taking on Ali (who makes an attempt to fight back).
Night falls and Rick and Chris have gone off to spend some time alone. Chris reveals what happened to her a few years before. Apparently, she had an encounter with a grotesque looking man who tried to kill her before she blacked out. She woke up in her bed and her parents never believed the story.
Rick is sympathetic. However, it's getting late and they should be heading back. The car battery has died and they have no choice but to walk.
Shelly is at it again. As Vera relaxes by the lake, he jumps out at her with a harpoon and wearing a hockey mask. She is not amused, telling him she likes him but not when he acts like a jerk. "Being a jerk is better than being a nothing" is Shelly's pathetic response.
Feeling dejected, Shelly wanders into the barn. Vera accidentally drops Shelly's wallet into the lake and goes in to get it. She has been holding onto it since their trip to the convenience store.
Vera sees someone in the distance and thinks it must be Shelly. But it isn't. Now wearing the hockey mask, Jason shoots her in the eye with the harpoon.
Andy and Debbie are blissfully unaware of what's been happening, having just made love on a hammock. Andy meets his own particularly gruesome fate as he fetches a beer while walking on his hands. Jason promptly slices his torso in half. Ouch.
Poor Deb, who was in the shower at the time, finds out while reading an issue of Fangoria. Blood drips on her and she looks up to see Andy's mangled body. There's not much time to react. Jason stabs her from under the hammock.
The lights go out in the house and Chuck goes down into the cellar to check the fuse. From inside the house, Chili hears a rattling at the door. She opens it and finds Shelly...his neck slit from ear to ear. "Nice makeup job," she says.
Jason makes his move on Chuck, knocking him into the fuse box and electrocuting him. The lights start to flicker and Chili realizes that Shelly is actually dead. She runs around the house for help...and right smack into Jason, who rams a red-hot fireplace poker through her stomach.
Rick and Chris finally make it back and find the lights out. In addition, the place looks abandoned. Jason wastes no time in getting Rick out of the way...smashing his head - which makes one of his eyes pop out.
Now alone, Chris begins to discover the bodies scattered about the property and unknowingly comes face to face with the boogey man that's plagued her for so long...his features covered by the mask.
Jason tries to get at her but Chris fights back. She even grabs the knife out of Debbie's corpse and strikes at him, stabbing him in the leg. The girl's got chutzpah.
Chris then tries to get away in the van before it conks out. The chase continues in the barn but she manages to knock Jason out with a shovel. And then a brilliant idea. She ties a noose around his neck and hangs him outside the barn.
Of course...it isn't over. Jason is very much alive and even taunts Chris by lifting his mask and revealing his face to her. "It's you!" she screams. Jason calmly jumps down off the noose and readies himself for his next attack on Chris.
But alas! Ali appears out of nowhere...wounded but still in fighting form. Not for long. Jason chops the biker's hand off before repeatedly cutting him with a machete.
The focus is again on Chris. It's an epic F13 struggle not seen since Ginny's bout with Jason in the previous film...or Alice's fight with Mrs. Voorhees in the first one. (Hey, if the pattern works...)
But Chris gets the upper hand and smashes an ax into Jason's skull. It's over. Or is it? Chris rushes to a rowboat and falls asleep in it. When she awakens, the nightmare seems to continue. She sees Jason in the distance and as she attempts to escape, Mrs. Voorhees pulls her down into the lake.
It's simply a nasty dream. Three state troopers (Charles Messenger, Terry Ballard, Terence McCorry) arrive and take Chris away in a patrol car...as she sobs and laughs hysterically.
Interestingly enough, two unused endings were shot and completed for Part 3. In the first alternate climax, Chris confronts Jason back at the cottage but this time she's decapitated by a blade-wielding Mr. Voorhees, the heroine's head flying to the ground and blood flowing from her open neck stump. So much for the final girl getting out alive.
In a second alternate conclusion, Jason meets a similarly gruesome fate; his body is thoroughly eviscerated, as his blood, guts and intestines spew out in an over-the-top 3D extravaganza.
Steve Miner, who had helmed the previous entry, returned for directoral chores on Friday the 13th Part 3. It was not the easiest of shoots and many in the cast recall working extra hours to set up the various 3D effects (which utilized a single lens prism setup known as the Marks 3-D system).
While not nearly the best of the series, this entry is certainly entertaining. From the flashback to Part 2...through the pulsating disco-tinged theme (courtesy of Michael "Let's All Chant" Zager)...to Dana Kimmell's tooth-n-nail fight to the death with Jason. It's all harmless fun.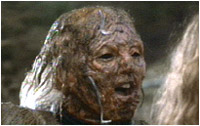 Speaking of Dana, the actress has often professed her intense Mormon faith and expressed embarrassment at her work in a handful of horror pictures (among them Sweet Sixteen and TV's Midnight Offerings, both 1981). At any rate, Kimmell clearly made them because she wanted to act at the time and thus sealed her place in the F13 Hall of Fame.
So while it is true that Kimmell took the role of Chris despite having reservations about the script's sex and violence, it's also clear that the actress imbued her feisty heroine with a virginal spunkiness that shines through...and proves itself just right for the part.
Across the board, the acting in Part 3 won't win any awards. But Kimmell's a joy to watch, as are her other young co-stars Tracie Savage and Catherine Parks...even if the three are somewhat physically similar in appearance.
Savage, who became a news anchor in Los Angeles, was involved in a minor scandal when her shower scene in F13 came to light during the highly publicized 1994 O. J. Simpson trial. Perhaps it was the subject matter...or the frontal nudity. In any case, her second career survived.
For the roles of mother and son, second assistant director Marilyn Poucher played the waterlogged Pamela Voorhees...while beefy Richard Brooker, a former trapeze artist, revels in the role of the now increasingly unsightly Jason.