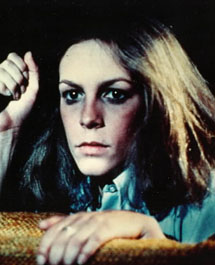 Jamie Lee Curtis was born into Hollywood royalty on November 22, 1958. The daughter of golden couple Tony Curtis and Janet Leigh, she grew up in a world of privilege...surrounded by the children of other famous movie stars.

After she graduated from Choate Rosemary Hall private school in 1976, it seemed only natural she would gravitate towards the profession of her parents.

Curtis got her start in television as a contract player for Universal and she first gained attention with the role of Lt. Barbara Duran on the TV series Operation Petticoat. (The show was based on the 1959 film that had starred her father.)

Her big break came when director John Carpenter and his collaborator Debra Hill cast her in Halloween (1978). There was a quality about the young actress that was just right for the part of virginal Laurie Strode, the babysitter stalked by a killer named Michael Myers.

From a marketing standpoint, the fact that Curtis was the daughter of the woman who was famously murdered onscreen in the Bates Motel shower...well, that helped her secure the part.

Halloween turned out to be a big hit of course, spawning countless imitators. It would eventually become the highest earning independent film up to that time. Naturally, both she and Carpenter thought the offers would come pouring in.

They didn't. So he handed her the lead role in his follow-up film, The Fog. An excellent ghost story, beautifully shot...The Fog gave Curtis the opportunity to appear in a film with her mother.

Back to back, these movies marked the beginning of a prolific career for Curtis in the genre, at a time when horror films were at the height of their popularity.

In quick succession, she made the sassy disco slasher Prom Night, the locomotive splatter Terror Train (both 1980)...and Road Games and Halloween II in 1981. She brought a charisma to these roles that set her apart from others. She could be sweet and innocent in one scene - and tough in the next. And she ALWAYS survived the carnage.

Unlike many of her peers, Curtis was ambitious and well-liked enough to be able to break out and not be typecast. She received praise for her role as the doomed actress in Death of a Centerfold: The Dorothy Stratten Story. And her part as a hooker in 1983's Trading Places led to a wide range of projects that continues unabated.

Over the years, she has made an impression in a variety of films including A Fish Called Wanda (1988), Blue Steel (1990), My Girl (1991) and True Lies (1994). Her gift for comedy won raves in the hit remake of Freaky Friday (2003).

While branching out and becoming a superstar in other kinds of films, she occasionally returns to the genre, as in 1994's Mother's Boys.

Along with her mother's cameo, she was the best thing in the decidedly imperfect Halloween: H2O (1998). It was telling to watch the younger cast around her preen and pose like models - as Curtis took the proceedings seriously. She was a true professional. The experience was rewarding enough that she played Laurie Strode one final time in 2002's Halloween: Resurrection.

In addition to her acting, Curtis has written several best-selling books for children and has been married to Christopher Guest (Waiting for Guffman) since 1984. They have two adopted children, Annie and Thomas.

Her thoughts on horror films? Curtis has been quoted as saying: "Does it bother me that I'm famous for horror films? No way. This is where I made my living. I have this life because of these movies. Whether I like it or not - whether I'm a fan of these movies or not - the reality is, these movies gave me a career."

'Nuff said.