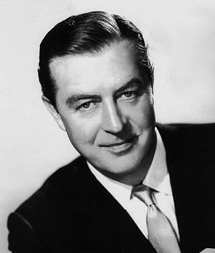 Ray Milland played many Americans in his long and distinguished career...and he played them well.

Born in Wales in 1905, he made a few films in England before going abroad and beginning a prolific career in the States.

Among Milland's many highlights, there was a Best Actor Academy Award for playing a troubled alcoholic in The Lost Weekend (1945).

The previous year, his late career in the horror genre was foreshadowed in the excellent ghost film, The Uninvited (1944).

Milland and co-star Ruth Hussey played a brother and sister who rent a mansion on England's coast haunted by a pair of spirits. The movie is great fun and one of the best of its kind.

Alfred Hitchcock's Dial M For Murder (1954) gave Milland a juicy part as the husband of Grace Kelly, who plots to kill her. If it's easy to overlook him in a film with the dazzling future Princess of Monaco, one must not underestimate his contribution.

Much like Shelley Winters, Milland settled comfortably into horror films by the sixties and seventies. There were two fine Roger Corman films, The Premature Burial (1961) and The Man With the X-Ray Eyes (1963), the creepy Frogs (1972) and Terror In the Wax Museum (1973).

Milland was equally adept in television and his work in that medium includes The Dead Don't Die (1975) and the sequel to a classic, 1976's Look What's Happened To Rosemary's Baby.

If there are those who find it unseemly for an actor of Milland's stature to have portrayed a racist who has Rosey Grier's head surgically implanted onto his body (The Thing With Two Heads) - you just might find an equal number of people who applauded his willingness to take roles in unusual films in order to continue working.

Ray Milland passed away in 1986.
| | |
| --- | --- |
| The Attic | 1980 |
| The Case of the Girl in the Yellow Pyjamas | 1977 |
| The Darker Side of Terror | 1979 |
| The Dead Don't Die | 1975 |
| Dial M for Murder | 1954 |
| Frogs | 1972 |
| Look What's Happened to Rosemary's Baby | 1976 |
| X: The Man with the X-Ray Eyes | 1963 |
| The Premature Burial | 1962 |
| Terror in the Wax Museum | 1973 |
| The Thing with Two Heads | 1972 |
| The Uncanny | 1977 |
| The Uninvited | 1944 |