(1981)

Former model Lauren Bacall was born Betty Joan Perske in New York City in 1924. She made her film debut in 1944 in the film

To Have and Have Not

at the age of nineteen.

On the set of To Have, the beautiful young starlet met and fell in love with Humphrey Bogart. The next year saw the two married and together, they became one of Hollywood's favorite couples until his death in 1957 left her a widow.

The Fan was Bacall's one and only true horror film. As a resident of the gothic Dakota apartment building on Manhattan's Upper West Side, the actress took a lot of heat from her neighbors when the project was first announced. Many felt it was in bad taste for her to star in a story about a celebrity stalked by a killer so soon after the murder of her neighbor John Lennon.

Based on a novel by Bob Randall, The Fan was directed by Edward Bianchi.
Dear Miss Ross,
I am your greatest fan because unlike the others, I want nothing from you. The only thing that matters to me is your happiness. I have posters, playbills, and a closet jam packed with photographs covering every stage of your magnificent career. Your presence alone makes every one of your films a true cinema classic.
I don't care what time they show on television. I will gladly stay awake until any hour in the morning. I bought a gorgeous new Lucite frame for one of your most famous pictures...the one of you singing while President Truman plays the piano. I despise those desperate, pathetic people who intrude upon your privacy.
Your happiness and piece of mind must be protected. I know of all the famous men in your life, but I adore you as no other ever has or ever will. Thank you for the inspiration you have given me. You are the greatest star of all.
Your friend,
Douglas Breen
P.S. Could you send me your most recent photograph as soon as possible?
Sally Ross (Lauren Bacall) is a famous movie and Broadway star and has been a celebrity for decades. Leaving the theatre in which she is starring in It's Called Tomorrow, she is surrounded by throngs of fans seeking her autograph.
One female eager beaver goes so far as to steal a pen which Sally has just used. The girl races across the street with it, only to be tripped by a young man who's been watching and who retrieves the pen for his own collection.
Douglas (Michael Biehn) is a solitary person who lives in a walk-up tenement in the Hell's Kitchen area of Manhattan, not far from the theatre. The walls of his apartment are covered with photos of Sally and her career. He sits down at his typewriter and composes another letter to his favorite legend.
Dear Miss Ross,
I understand an important and glamorous star like yourself doesn't have time to answer every letter personally. But frankly, I couldn't help feeling hurt when I got that note signed by your secretary. I know that after you speak to her, it won't happen again.
All my love,
Douglas Breen
P.S. Would you also tell her that the photograph she sent me was one I already have.
By contrast, Sally returns home to a spacious, penthouse apartment overlooking Central Park in a building called the Prasada. But like Douglas, she too is lonely and as she goes to bed, she gazes at a photo of herself with Jake Berman, her ex-husband.
Against her better judgement, she phones him and leaves a message on his answering machine. It was her last night in the show and she tells Jake that she has decided to take on a musical next.
She also is honest with her feelings, telling him, "being divorced from you is not exactly heaven every moment. And this is one of the off moments."
Sally's secretary, Belle Goldman (Maureen Stapleton), is a no-nonsense, loyal and protective type...perfect for someone who is used to being pampered. She responds to Douglas's note kindly, enclosing another photo with an apology. "The last thing I would want to do is to disappoint any member of Miss Ross's fan club," she writes.
As personal assistant to Sally, Belle wears many hats, including correspondence and ensuring that her boss has the right practice shoes she ordered for rehearsals beginning soon. The second employee in the apartment is Sally's cleaning lady. Elsa (Feiga Martinez) speaks in broken English but is proficient in her duties.
On her birthday, Sally wakes up to a chorus of "happy birthdays" from her two employees. But she doesn't want a big deal made of it. "We're supposed to forget this one. As of today, I'm going to be 45 forever!" she says.
Belle tells Sally she has a luncheon date that morning...with the ex-Mr. Sally Ross. Sally is more than happy to see Jake again, who is visiting New York from California and is working in pre-production on a film.
While opening the mail, Belle reads yet another letter from Douglas:
I hope you don't mind me saying this but I think your secretary needs a talking to. She enclosed a very snide letter with the photograph, actually referring to me as a member of your fan club. I'm not one of those cheap, anonymous little star gazers as she so smugly insinuated. And frankly, I think such rudeness should not go unpunished.
But I assure you...I remain yours faithful and adoring,
Douglas
"Who the hell does he think he is?" Belle says to herself as she immediately begins typing a response.
Sally meets Jake (James Garner) in the lobby of his hotel and he wishes her a happy birthday. In a car on the way to the restaurant, Sally admits she's been lonely. During lunch, she talks about how nervous she is to be doing a musical.
Barely hiding her bitterness over the breakup of a 15-year marriage, she asks Jake about his girlfriend...who is apparently young enough to be their daughter. He drops the news that he's going to marry the girl.
Douglas shows up to his job in a record store, where he is given direction from his boss, John (Charles Blackwell). Doug then berates Linda (Dana Delany), a female co-worker, for taking a long lunch.
Meanwhile, Belle leaves Sally's apartment for the day, reminding her not to stay up late because rehearsals begin the next morning. Belle says she'll be staying up to watch one of Sally's movies on television. "That ought to put me to sleep," she jokes.
That night, Douglas is alone but he prepares a meal for two. His sister (Kaiulani Lee) shows up at his apartment to tell him that the family has been worried about him. The only time they hear from him is when he needs money. Douglas wants her to leave.
"You've interrupted a very wonderful evening. Right now, I'm having dinner with a very famous actress...a great star of stage and screen," he tells her. His sibling knows that he is prone to making stories up - but Douglas doesn't want to hear it and slams the door in her face.
Dear Miss Ross,
I know how busy you are and the last thing I would want to do is trouble you. But I was wondering if you had had that little talk with your secretary. If you could take a moment out, I would love to hear from you.
The one who adores you,
Douglas Breen
Sally arrives at the dance studio for her first rehearsal and is introduced to the dancers by the director (Dwight Schultz). She begins learning the steps to "A Remarkable Woman" and quickly loosens up, doing well with the choreography.
The missives from Douglas are coming more rapidly. He writes:
Dear Sally,
I'm afraid your secretary doesn't realize her place. She doesn't understand that I am much more than a fan. I am a friend...and I am someone you can turn to in times of distress. And even more than that, it has taken me a long time to say this, but I know the time is now right. We will be lovers very soon, my darling. And believe me, I have all the necessary equipment to make you very, very happy.
Belle stops by the rehearsal to bring Sally her lunch and personal mail. She tells her that Jake called to ask if they're still friends, and points out the most recent letter from Douglas. "You got a really raunchy letter from that weirdo fan I tried to tell you about," she says to Sally...adding that the guy is driving her crazy. But Sally is too preoccupied to pay any attention.
At home, Douglas practices a speech to his boss. He wants Linda fired from the record store. But once there, he loses his nerve and John lets him know that he is clearly not happy with his job performance. In his own delusional mind, Douglas tells himself that he "had it out" with the storeowner and that everyone "applauded" him.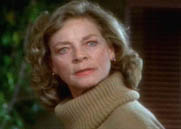 Now out of work, he sits on the stoop of his building and reads a letter from Belle. It is not what he expects.
Dear Mr. Breen,
Point 1 - I have no intention of showing your tasteless letter to Miss Ross.
Point 2 - I believe there is a law against sending pornography through the mail.
Point 3 - If you should be so ill-advised as to write her any more letters, I can assure you there will be no reply.
Furious, he tears it up and tosses it into the trash. Sitting in a park, Douglas composes a response in his head, which he intends to write and personally deliver to Sally.
Among other things, he suggests that because Belle has been intercepting his letters, she must be jealous and therefore have "lesbian tendencies." He firmly believes Sally should get rid of her.
Douglas arrives at the dance studio with his note and unbeknownst to him, he rides up in the elevator with Belle. But Sally has left the building with David Branum (Kurt Johnson), one of the dancers, to grab something at the health store.
Douglas hands the letter to a production assistant (Griffin Dunne), who in turn...gives it to Belle. Now Douglas knows what she looks like and he immediately purchases a razor blade from a nearby store.
Sally is going to a party that night with David. Belle shows her the most recent communication from Douglas and Sally finally takes notice. "What in God's name did you say to him in your letter? I hope you haven't taken to treating all my fans like this," she tells Belle.
The secretary is upset. She tells her boss she was just looking out for her. Sally apologizes, calling herself a "spoiled bitch." As for the fan in question, Sally tells Belle to ignore him...adding that he's "harmless."
David arrives to pick Sally up and Elsa takes his coat. Belle introduces herself to him as she's leaving to head home for the night.
At the party, David and Sally see Jake and his girlfriend Heidi (Lesley Rogers). It's an awkward moment but Sally gets some satisfaction from the fact that she has a young, good-looking date as an escort.
Belle is in the subway on her way home, after having done some shopping. She is not alone. Douglas has been following her. As she's rushing down a deserted walkway, Douglas grabs Belle and slashes her face twice. Her screaming is inaudible with the roar of the trains.
Sally's night is cut short and she arrives at a local hospital, distraught over what has happened. She is grateful that a concerned Jake has joined her and tells him that it wasn't a robbery. The attacker left Belle's purse behind and didn't take anything.
Sally is also by Belle's side the next morning. The poor woman is bandaged across half of her face but she's worried that someone is going to take her job. Sally assures her that she is irreplaceable...and anyway, Elsa will be coming five times a week to help out and is even learning to answer the telephone.
With a drink in hand that evening, Sally opens her mail. There is a frightening letter from Douglas.
My darling,
It was over very quickly, and I feel glad because I never wanted her to suffer. The important thing was to get her out of the way so that we could be together. Without Miss Goldman to worry about, you can answer this right away. But remember...we'll have to keep our relationship secret for a while. I know it's agony, my darling, but be patient. Soon, we'll be free to express our love ­ fiercely, openly, over and over again. I know how you ache and burn for my touch. It will be easier for you if write to me now, this second.
Sally shows the letter to Police Inspector Raphael Andrews (Hector Elizondo), who clearly can see that it isn't the first communication from the attacker. He asks to see the others along with the replies, but Sally tells him that she and Belle never saved fan letters.
While the current note does not include a last name or return address, the discarded ones did. With a potential killer on their hands, the detective will have to speak directly to Belle.
On the patio outside her penthouse, Sally is consoled by Jake, who tells her he's there for her as long as she needs him. With a prior engagement, he leaves and says he will call the next day.
Inspector Andrews visits Belle in the hospital. She can't figure out how Douglas recognized her and has difficulty remembering his last name. By the time she started noticing the nature of his communications, he stopped signing it. "Just catch that son of a bitch," she pleads.
After practicing the show's big ballad, Sally leaves the rehearsal studio to go to the hospital and David walks her to a taxicab. Douglas has been watching from a nearby diner. He follows David to a YMCA where the dancer likes to take a swim in the pool every day.
While David does a few laps, Douglas quietly slips into the water. He pulls out the razorblade from his swimming trunks and when David swims by...he slashes him in the stomach.
My dearest darling,
Once more, I have proven my love. I am ready to do it again and again. You know that. But still, you refuse to acknowledge me. Still, you seem to delight in tormenting your one true champion. This is sadistic and insane. Be warned...there's a limit to my patience. I expect a letter tomorrow. Tomorrow, Sally.
David is expected to fully recover and Inspector Andrews tells Jake that Sally will be getting 24-hour protection and a live-in cop, Officer Emily Stolz (Anna Maria Horsford).
From the diner, Douglas watches as the inspector arrives at the dance studio to see Sally. Having not received any letters in several days, Andrews is pessimistic and he tells Sally that Douglas will likely target her next.
During a run-through at the theatre, Sally has trouble concentrating. The director tells her to take a break and has a stand-in take over. Officer Stolz is never far from Sally's side.
Jake pays his ex-wife a visit in the dressing room and asks why she hasn't contacted him. "I don't want to depend on you anymore. Always makes me feel shitty about myself," she tells Jake before asking him to leave.
Inspector Andrews takes Sally up on her offer to cook for him. She tells him the show is set to open in two weeks and the first preview will be in a few days. He wonders if she can have her understudy do the previews until the case is solved. Sally refuses, saying that work is all she has.
The following day, while Sally is rehearsing, Douglas manages to sneak into her apartment. He pounces on Elsa and cuts her with the razor. While the maid lies bleeding, he then goes on a rampage...slashing paintings and smashing framed photos hanging on the wall.
When Sally arrives back home with Officer Stolz, she finds the place in shambles. A shocking note has been left behind, the most threatening one yet:
Dearest Bitch,
See how accessible you are? How would you like to be fucked with a meat cleaver?
Sally tells Inspector Andrews that she doesn't want him to call Jake. Later, her phone rings. It's Douglas and he says he wants to make love to her. When Sally does not respond, the stalker tells her he doesn't want to have to kill her. Rather than call the police, Sally phones Jake...only to have Heidi answer the phone. She won't leave a message.
Despite the presence of an officer living in her apartment, Sally manages to sneak out. Douglas watches as gossip columnist Liz Smith reports on television that the star has dropped out of the previews and is now in seclusion in an undisclosed location.
Apparently, Sally would rather be alone in her beach house than in the city with police protection.
Frustrated and even more psychotic, Douglas picks up a man in a bar (Terence Marinan) and takes him up to his rooftop. As the guy is about to perform oral sex on him, Douglas slashes his throat and douses him with gasoline, setting him on fire. He pins a note nearby that explains this action:
Dear Sally,
This is the only way I can atone for the pain I have caused you. Now my dearest, you are free. Let my burning body be a monument to the great love that might have been.
All my love,
Douglas
Jake figures out that Sally is at the home they bought together on the beach. He pays her a visit and brings her back to Manhattan, where Belle has now recovered from the attack and is back at work.
Opening night for Never Say Never arrives. Jake brings Sally a bouquet of flowers and just as she tells him that she can accept that their relationship is over, he breaks the news that he and Heidi have broken up. Sally is thrilled and it looks like her life is back on track.
It's a full house. Inspector Andrews and Officer Stolz are in the audience, along with Jake and Belle. The show appears to be a smash.
Nearby, Douglas dresses up for his "night out." Wearing a tux, he walks into the theatre just in time to catch Sally perform her big showstopper, "Hearts, Not Diamonds," during the finale. There's a standing ovation and Sally greets well wishers in her dressing room.
Before attending the opening night party, Sally needs time to freshen up. Everybody heads over to the bash and Jake tells her that he will be back shortly to pick her up.
Sally's wardrobe woman, Hilda (Parker McCormick) stays behind as the theatre clears out. While putting one of the costumes away, Douglas stabs her. Another unfortunate victim falls prey, as Douglas also stabs Pop (Robert Weil), the night watchman.
Calling out for Hilda, Sally is confronted by Douglas, who's covered in blood. As she tries to escape, she sees Pop's body on the ground. She manages to strike the killer in the face with a riding crop but is soon subdued.
"Do you think being who you are gives you the right to treat me like garbage?" Douglas demands to know. He strikes her repeatedly with the crop and as he is about to kiss her, Sally tells him he's pathetic.
Douglas pulls the knife out of his pocket and Sally dares him to kill her. "C'mon, Douglas...here's your chance to be one of those hoodlums that kill their victims for nothing, the thief who murders little old ladies for a quarter..."
"Goddamned terrorist who slaughters innocent people," Sally continues, "that's what you really are. Don't you think the world's had enough of it, enough of people like you? Well, I've had it. It's not just me, we're all sick of this reign of terror. I will not be a victim!"
The speech makes Douglas angry but rather than kill Sally, he puts his arms around his idol and says that he loves her. With an opportunity to escape once again, Sally jabs the knife into his neck. The terror is finally over. Douglas's body is left sitting upright in the theatre...the knife still jabbed into his neck.
A voiceover relays the first letter that began this decidedly unhealthy and deadly obsession:
Dear Miss Ross,
I have finally worked up enough courage to write you. You do not know me, but who I am does not matter. If there is such a thing as a soul, which is the basis of all life...then you are my soul. And your life is my life. This is the first letter of what I hope will be an everlasting correspondence.
Your greatest fan,
Douglas Breen
The Fan was not the hit that all involved had hoped it would be. But repeated showings on HBO and Showtime in the early '80s would give it new life.
Director Edward Bianchi did not helm another theatrical feature until 1991's Off and Running and continues to work, mostly in television.
While Marvin Hamlisch and Tim Rice contributed two songs, the beautiful instrumental score by Pino Donaggio helps the film immeasurably...as does the delicate cinematography by Dick Bush.
Rather unfairly derided by a variety of folks (including lead Bacall herself), The Fan has a fair share of things going for it. The slick production works to its favor, efficiently moving the plot along.
It's a good early '80s slasher-thriller...a guilty pleasure that benefits from a simple, straightforward narrative that's executed quite breezily. Almost no subplots, well done characterizations from Stapleton, Biehn and Bacall; the action is direct and unfiltered.
There is a certain amount of discomfort one feels watching Bacall's undignified treatment at the hands of Biehn. But she comes through like a trooper, and the audience cheers her bravado.The lady's got balls.
Bacall never lets you forget she's a STAR. Despite that rasp of a voice, she did in fact make a career for herself as a Broadway sensation, winning raves and a Tony Award in 1970 for Applause (the musical adaptation of All About Eve) and again in 1981 for Woman of the Year.
The actress had been nominated for an Emmy for her guest appearance in a 1980 episode of The Rockford Files, the signature work of Fan co-star James Garner.
Veteran Maureen Stapleton is in fine form as usual. She would finally win an Oscar for playing Goldman this year...another Goldman in another film - Emma in Warren Beatty's Reds.
Michael Biehn is a standout and orchestrates one of the few instances where audience awareness of the killer's identity doesn't completely destroy the built-in tension. He went on to star in a trio of terrific films for director James Cameron, The Terminator, Aliens and The Abyss.
A glossy, upscale slasher for the Studio 54 set. Watch The Fan back to back with The Eyes of Laura Mars!